The Best Video Baby Monitors of 2018
By TJ Donegan
When you're a parent-to-be, making sure you get all the necessary gear can be a chore. One of the trickiest to get right is a baby monitor. Do you need a model with video? One that can connect to your phone? Is that even safe? Why are they so expensive?
As a parent myself, I know just how frustrating it can be. But after testing over a dozen of the top models over two years, the best video baby monitor I've found is the Samsung BabyView SEW-3053W (available at Amazon for $159.98). It's easy to use, has fantastic range, offers great image quality even at night, and it can connect via Wi-Fi so you can watch it from your phone—but only if you want to.
Though some people are fine with just a cheap audio baby monitor—and should check out our guide to the best ones—I prefer a video monitor so I can see when my daughter is still awake, or when she makes a sound but doesn't need my help. Honestly my wife and I sometimes just like to see her before we go to bed without waking her up.
For most people, we think our top pick will be perfect. But if you have a slightly tighter budget or want a monitor that's designed to exclusively work with your phone, we've got you covered too. These are the best video baby monitors right now.
Updated January 11, 2018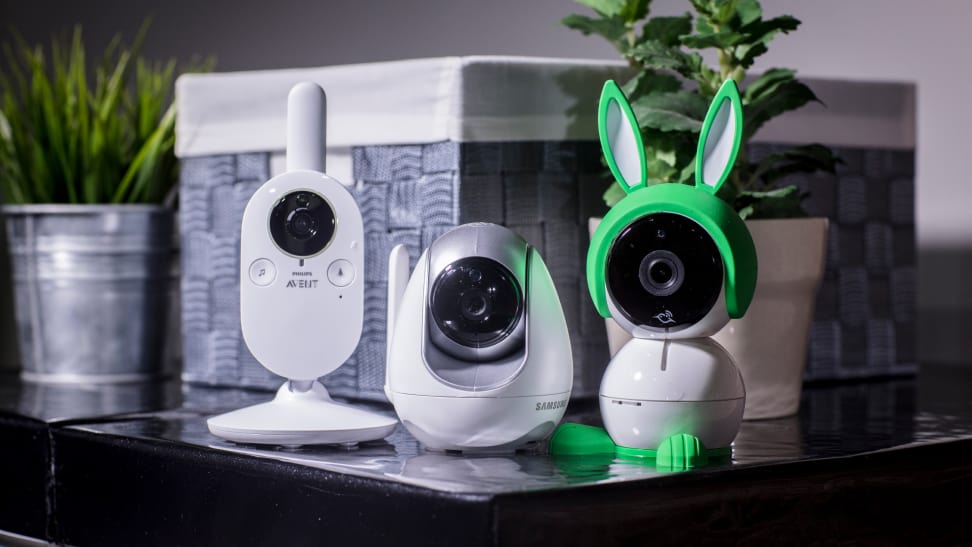 Samsung BabyView SEW-3053W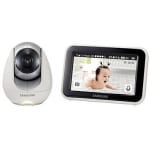 Samsung BabyView SEW-3053W
Best Overall
The Samsung BabyView SEW-3053W is the follow-up to our previous top pick for the best video baby monitor, the Samsung BrightView SEW-3043W. I've used our previous pick in my home for two years and I love it. The new model features an updated camera design with two key additions: a temperature sensor and the ability to connect to your home's Wi-Fi network so you can view the feed from your phone.
The temperature sensor is nice to have—especially if you have uneven heating and cooling—but the ability to connect to your Wi-Fi is a massive win. With previous Wi-Fi models, we had two major issues: they'd stop working if your wireless network went down briefly, and the apps that you needed to connect to the camera usually lacked the features we wanted like always-on listening.
The BabyView sidesteps those issues because the Wi-Fi streaming is entirely optional; it streams to a parent unit locally and only uses your Wi-Fi when you want to watch on your phone over the internet. If the idea of your monitor streaming over the internet freaks you out, just ignore that part of setup and you'll be fine. If you do set it up, we highly recommend you use a very strong password—never leave it as the default.
Other than that, the BabyView is basically the same as our previous winner. The updated camera design is a little nicer, with a better night light function, but otherwise it works the same. Though the gap between this and some other monitors isn't as big as it was last time we tested, this is still the best option for most people. If my monitor broke, this would be the one I'd spend my money on.
Philips Avent Digital Video Baby Monitor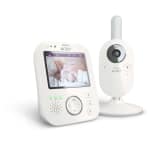 Philips Avent Digital Video Baby Monitor
Best Value
Philips makes most of our favorite audio baby monitors, providing affordable, effective products that aced nearly all of our tests. The Philips Avent Digital Video Baby Monitor (SCD630) also did extremely well in our video tests, though it was just short of our top pick.
The main reason it fell behind? The screen is a bit smaller and the controls aren't quite as easy to use. Otherwise it's got fantastic range—it was the only other monitor we tested that could match the Samsung—and has all the features we are after, such as a temperature sensor, remote control of the camera, and helpful extras like the ability to play music or talk to your baby.
One thing the Philips has going for it is price. Though the MSRP is $220 and right in line with the Samsung, it typically sells online for around $150. That makes it one of the cheapest monitors we've tested, below even the ever-popular Infant Optics DXR-8, our previous pick for Best Value. Though the DXR-8 is constantly one of the top-selling monitors online, we prefer the Philips. It's got better range, better image quality, and nearly all the same features for less money on sale.
Infant Optics DXR-8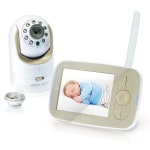 Infant Optics DXR-8
The Infant Optics DXR-8 isn't the best camera that we tested, but it's nearly as good as the Samsung model despite costing about $60 less on average. It has virtually all of the same features, including a temperature sensor, which can be helpful if you live in a home with uneven temps from room to room or floor to floor.
It also has physical buttons on the parent unit that are more responsive than Samsung's touchscreen controls. The main drawback is that the camera isn't quite as good and its parent unit has a smaller 3.5-inch screen. That means you may not be able to pick up as many fine details, though can easily tell if your baby is awake and moving around.
In our initial roundup of video baby monitors, we gave the DXR-8 our Best Value award. Though we think the Philips above is a better pick when on sale, it's really a wash. They're very similar models, and if you don't need the Philips' range (or the Philips jumps up in price) then we'd happily recommend the DXR-8 still.
Motorola MBP853CONNECT
Motorola MBP853CONNECT
The Motorola MBP853 Connect is one of the highest quality traditional baby monitors that we tested, with a good screen, a great camera, and the ability to also stream video to your smartphone.
So why isn't it winning? Because it has the worst user reviews of any of the models we tested, including 40% 1-star reviews on Amazon. Many users complain of cameras that simply stop working, which sounds like a pretty big showstopper to me. On the other hand, I have a friend who has one and absolutely loves it and our test unit didn't exhibit any problems. Though our testing alone hasn't revealed any major issues, we can't recommend a product with so many poor user reviews. Caveat emptor.
Summer Infant Panorama Digital Color Video Baby Monitor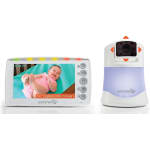 Summer Infant Panorama Digital Color Video Baby Monitor
The Summer Infant Panorama Video Baby Monitor seems really promising at first. The parent unit includes a giant, wide screen, it's simple to set up, and the camera looks pretty good. But the Summer Infant model couldn't keep up with our favorites when it comes to image quality, range, or features.
At just $149 it's affordable, but we'd prefer the Philips Digital Video Baby Monitor, which typically sells for a few dollars more online. The screen may be smaller, but the Philips had better range, better controls, and the image quality is good enough that you can easily see what's going on with your baby even with a smaller screen to look at.
Safe Baby Tech Video Monitor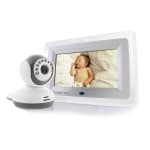 Safe Baby Tech Video Monitor
The Safe Baby Tech Video Monitor is very popular on Amazon, but it completely failed all of our tests. The screen and camera were easily the worst in the group that we tested, with poor clarity, poor range, and a parent unit that only functions when plugged in. Do yourself a favor and skip this one.
Best Connected Cameras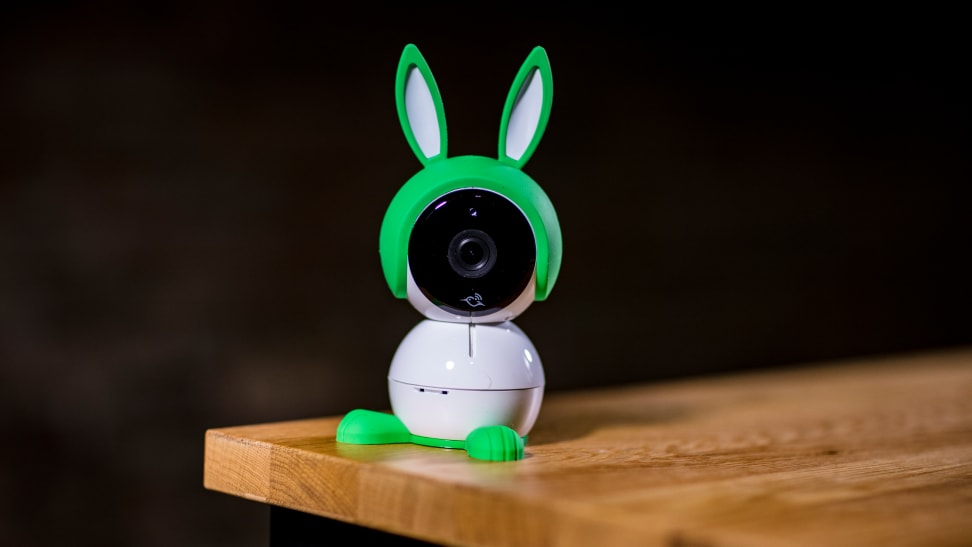 Netgear Arlo Baby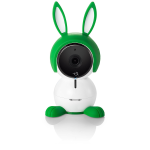 Netgear Arlo Baby
Smart wireless IP cameras have become increasingly popular in the past few years. Pioneered by companies like Dropcam (now owned by Nest), these cameras use your home Wi-Fi to stream a video signal online that you can access from anywhere. But most of these cameras lack baby monitor-specific features, such as the ability to constantly stream audio to your phone, relying on alerts and notifications to wake you up if the baby starts crying.
The Netgear Arlo is built from the ground up to be a baby monitor, right down to its adorable design. The Arlo app is slick, easy to use once you get the hang of it, and it offers baby-specific features like constant audio streaming—even when your phone is locked.
As with other wireless cameras, the Arlo relies on your home's Wi-Fi network and you need a device like a phone or tablet to access it. That may be a dealbreaker for some people, though the upshot is you have essentially unlimited range as long as you and the camera have internet access (you can be anywhere in the world and access it). You also get far better image quality than other monitors in this price range because you're just paying for the camera instead of a camera and a parent monitor.
Here's the thing, though: none of these wireless IP cameras keep up with our top picks overall. Though the Arlo is the best of this batch due to its feature set, it has a large number of iffy user reviews, mostly due to dropped connections. We simply trust the more "traditional" models like the Samsung BabyView more, though if you're dead set on getting a wireless IP solution the Arlo is our favorite.
Nest Cam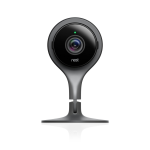 Nest Cam
If you're a little more tech-savvy, the Nest Cam (formerly the Dropcam Pro) is easy to use and can work well as a baby monitor, assuming you're okay with its shortcomings. It costs around $200, but the upside is that it streams excellent 1080p video to any internet-connected device (laptop, tablet, or smartphone) anywhere in the world, same as the Netgear Arlo.
The downside is that the camera will only work if it has WiFi access. Unlike the traditional baby monitors it doesn't stream directly to a parent unit, though once it's online you can access the feed from anywhere. Still, as a first-time parent the idea that my baby monitor will just stop working if my WiFi cuts out is a serious concern.
The Nest Cam also won't stream audio unless you're watching the live feed, so if you want to see (and hear) what's going on in baby's room, you can't shut the screen off or use your device for anything else. The Nest Cam will send you alerts if there's any sound or motion in the room, but (like the other connected cams) it's much better suited to functioning as a nanny cam than a baby monitor.
Oco Smart Camera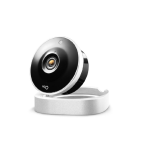 Oco Smart Camera
The Oco is much like the Nest Cam, except it streams at a slightly lower resolution (720p vs 1080p) and it's cheaper. The main reason we like the Nest more is the app is much simpler to use and more reliable. But if you like the Nest Cam but want to save some money, the Oco is a great alternative.
The Oco's app does have one feature Nest doesn't: the ability to continue streaming audio from the camera while the app is running in the background. This lets you turn the screen off at night or use other apps while still listening to baby.
Philips Avent uGrow Smart Baby Monitor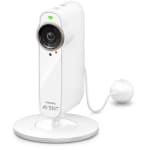 Philips Avent uGrow Smart Baby Monitor
While we've been consistently impressed by the range and connectivity of other Philips products, there seems to be an issue with the Philips Smart Baby Monitor. Like other smart, connected baby monitors you're just paying for a camera that you access via an app on your phone.
When connected, the image quality and controls were quite good, and theoretically you get unlimited range as long as the camera and your phone have an internet connection. The problem? The camera has a nasty habit of just dropping out, meaning you can lose connection or miss notifications that your baby is crying. User reviews bear this out, with the product getting around 2.5 stars on Amazon and other sites. It could be good if Philips can get this fixed, but other models are a better buy.
Withings Home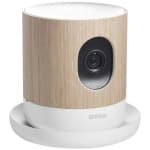 Withings Home
The Withings Home works just like the Nest Cam and the Oco, but it has an air quality sensor that can detect volatile organic compounds (VOCs) in the air. While this isn't likely to be an ongoing concern for most parents, VOCs can be airborne if you recently painted a room—like, say, the nursery.
Unfortunately, while the app is exceptionally well-designed, the camera quality isn't that great; it consistently dropped out for me, even with a very strong wireless signal. It does include a wired ethernet port so you don't have to rely on WiFi, but our test unit entirely stopped working before we could even try it out. Not good.