When you're a parent-to-be, making sure you get all the necessary gear can be a chore. I know from experience: With a daughter on the way in a few weeks, I've pretty much lived in baby stores for the past six months. And one of the toughest tasks has been to pick out a baby monitor.
With so many models on the market—many of them quite expensive—I was left to wonder: Which is the best video baby monitor you can buy? It's not an easy question to answer. I have years of testing digital cameras under my belt, and even I was confused.
So I spent weeks figuring it all out, consulting with other parents, and reading hundreds of user reviews. Then, I conducted in-depth testing of seven of the most popular models, including both traditional monitors and new connected cameras that stream video to your tablet or smartphone, no matter where you are. If you're looking for the best, the Samsung SEW-3043W BrightVIEW HD (available at Amazon)is the top of the line.
Updated July 18, 2017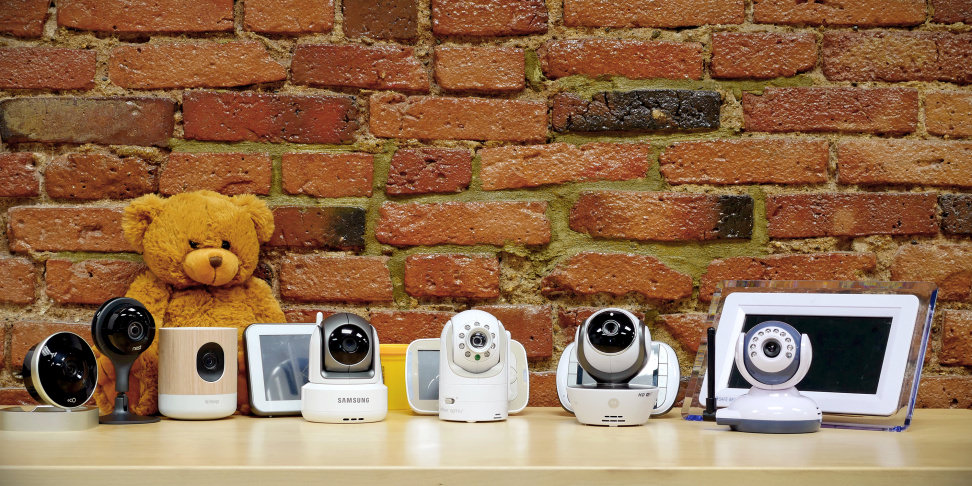 Best Baby Monitors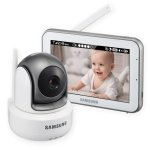 Best Overall
Samsung SEW-3043W BrightVIEW HD
The best video baby monitor is the Samsung SEW-3043W BrightVIEW HD. Though it isn't cheap at just over $220, it streams 720p HD video to its parent unit, which has a 5-inch touchscreen LCD that you also use to control the camera. Of all the models that we tested, it features the best mix of image quality, range, features, and ease of use.
In particular, we were particularly smitten with the Samsung's exceptional range and high-quality video. We were able to stream video from the third floor of my house all the way to the basement, and the video was crisp even at night. Best of all, it's one of the few monitors that lets you turn the screen off while continuing to stream audio from the baby's room. That can help you get some much-needed shuteye.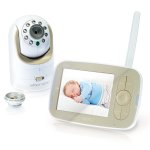 Best Value
Infant Optics DXR-8
The Infant Optics DXR-8 isn't the best camera that we tested, but it's nearly as good as the Samsung model despite costing about $60 less on average. It has virtually all of the same features, but it adds a temperature sensor, which can be helpful if you live in a home with uneven temps from room to room or floor to floor.
It also has physical buttons on the parent unit that are more responsive than Samsung's touchscreen controls. The main drawback is that the camera isn't quite as good and its parent unit has a smaller 3.5-inch screen. That means you may not be able to pick up as many fine details, though can easily tell if your baby is awake and moving around.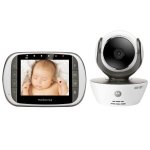 Motorola MBP853CONNECT
The Motorola MBP853 Connect is one of the highest quality traditional baby monitors that we tested, with a good screen, a great camera, and the ability to also stream video to your smartphone.
So why isn't it winning? Because it has the worst user reviews of any of the models we tested, including 40% 1-star reviews on Amazon. Many users complain of cameras that simply stop working, which sounds like a pretty big showstopper to me. On the other hand, I have a friend who has one and absolutely loves it. Caveat emptor.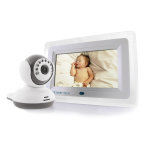 Safe Baby Tech Video Monitor
The Safe Baby Tech Video Monitor is very popular on Amazon, but it completely failed all of our tests. The screen and camera were easily the worst in the group that we tested, with poor clarity, poor range, and a parent unit that only functions when plugged in. Do yourself a favor and skip this one.
Best Connected Cameras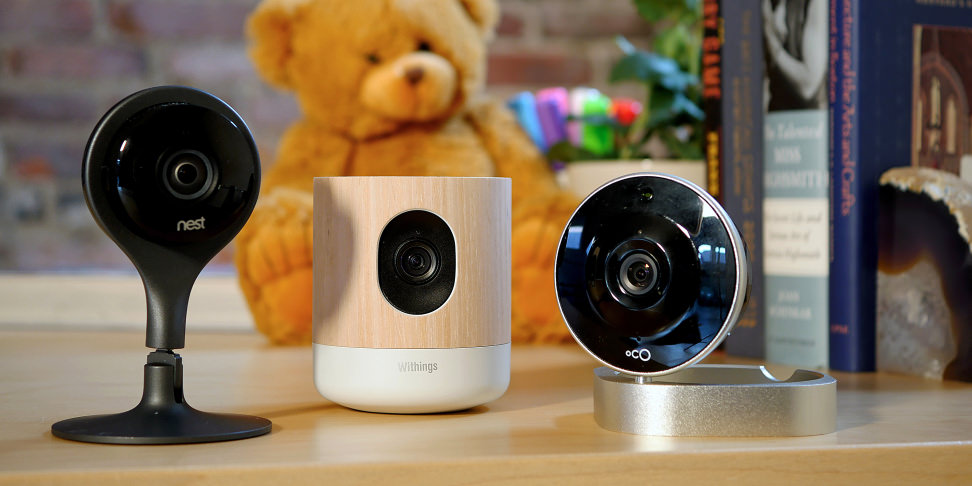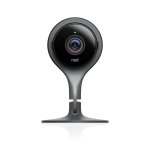 Best Connected Camera
Nest Cam
If you're a little more tech-savvy, the Nest Cam (formerly the Dropcam Pro) is easy to use and can work well as a baby monitor, assuming you're okay with its shortcomings. It costs around $200, but the upside is that it streams excellent 1080p video to any internet-connected device (laptop, tablet, or smartphone) anywhere in the world.
The downside is that the camera will only work if it has WiFi access. Unlike the traditional baby monitors it doesn't stream directly to a parent unit, though once it's online you can access the feed from anywhere. Still, as a first-time parent the idea that my baby monitor will just stop working if my WiFi cuts out is a serious concern.
The Nest Cam also won't stream audio unless you're watching the live feed, so if you want to see (and hear) what's going on in baby's room, you can't shut the screen off or use your device for anything else. The Nest Cam will send you alerts if there's any sound or motion in the room, but (like the other connected cams) it's much better suited to functioning as a nanny cam than a baby monitor.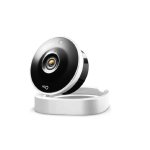 Oco Smart Camera
The Oco is much like the Nest Cam, except it streams at a slightly lower resolution (720p vs 1080p) and it's cheaper. The main reason we like the Nest more is the app is much simpler to use and more reliable. But if you like the Nest Cam but want to save some money, the Oco is a great alternative.
The Oco's app does have one feature Nest doesn't: the ability to continue streaming audio from the camera while the app is running in the background. This lets you turn the screen off at night or use other apps while still listening to baby.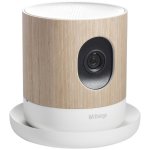 Withings Home
The Withings Home works just like the Nest Cam and the Oco, but it has an air quality sensor that can detect volatile organic compounds (VOCs) in the air. While this isn't likely to be an ongoing concern for most parents, VOCs can be airborne if you recently painted a room—like, say, the nursery.
Unfortunately, while the app is exceptionally well-designed, the camera quality isn't that great; it consistently dropped out for me, even with a very strong wireless signal. It does include a wired ethernet port so you don't have to rely on WiFi, but our test unit entirely stopped working before we could even try it out. Not good.
Test Results
We've laid out the broad pros and cons of each model above, so here we'll dive into some of the tests we conducted to give you a better idea of how each model performed.
Image Quality
Connected Cameras
All told, the Nest Cam was the clear winner of the image quality test, followed closely by the Oco and then the Withings. Its video stream was crisp and detailed, and the wide-angle lens means you can fit most of the nursery in at all times.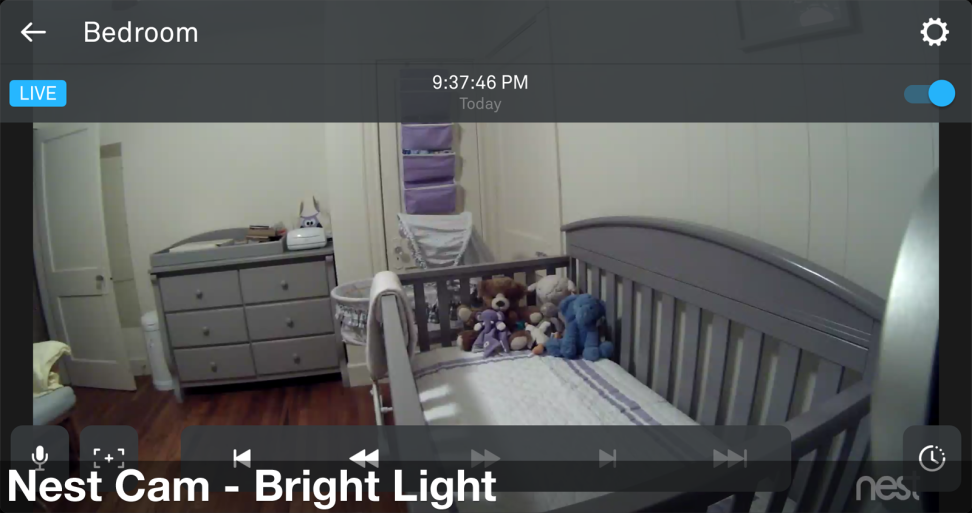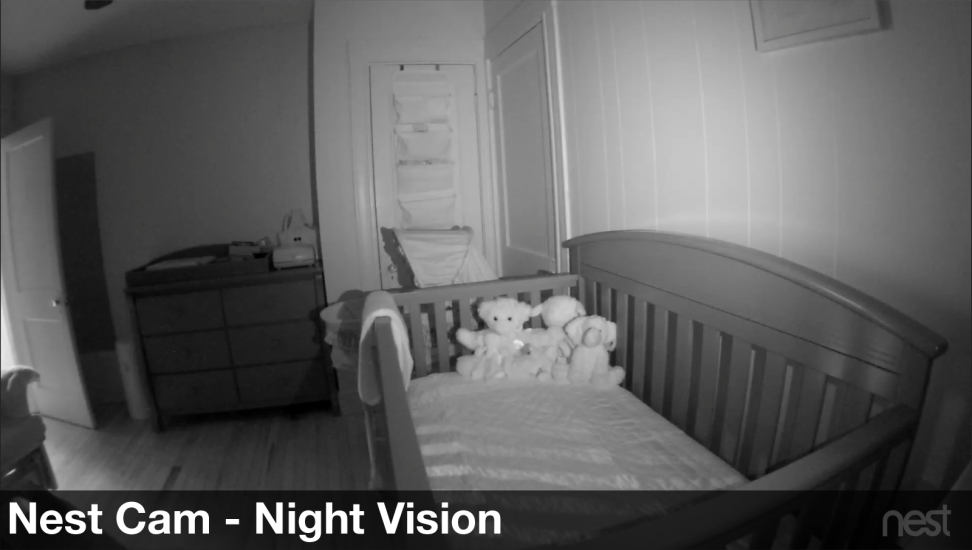 Traditional Baby Monitors
Of the more traditional baby monitors, the Samsung was clearly the best. While the Motorola and the Infant Optics models might be just as good, their parent units have worse LCD screens, so there's a limit to how much detail you can see. The Safe Baby Tech monitor was just poor all around.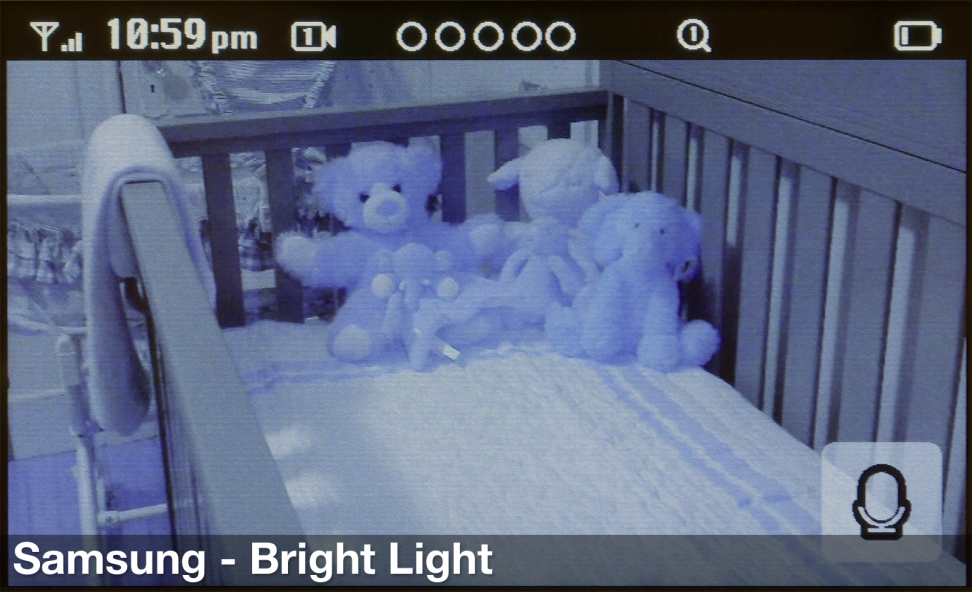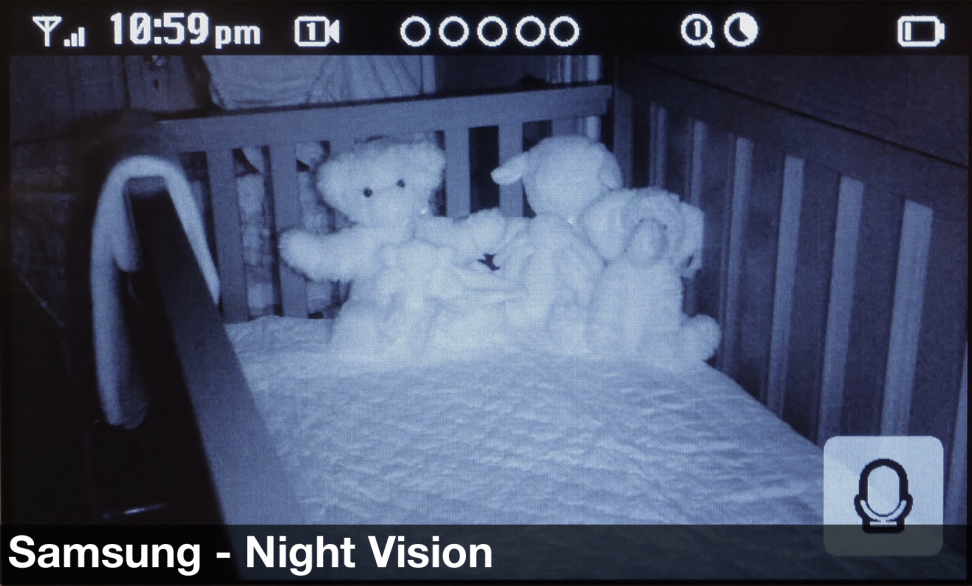 Range
To test how far each of the baby monitors could broadcast, I placed all of them on the third floor of my house—a 1920s-era two-family structure with loads of internal lathe and plaster walls. Then I tested how far I could move the monitor before the signal dropped out.
The Samsung model was once again best in class, able to reach the basement with no trouble at all. The other monitors all reached at least four rooms away, but none could match the Samsung. Exempted from this test were the connected cameras like the Nest Cam and Oco, since those will work anywhere that you have a decent wireless signal.
Other Things to Consider

1. Budget for a battery-operated backup. Almost all baby monitors (both video and audio-only models) require that the monitor itself be plugged in. That's a pain if the power goes out. This Graco model is an ideal backup, since it can run either plugged in or entirely off rechargeable batteries. It's also a good complement for the video monitors that don't let you turn the screen off; just use this at night and only check the camera if you have to.
2. Buy well before your baby arrives. There's simply no way to account for every home's particular quirks, so your best bet is to set up your monitor well ahead of time and see how it performs. That way, if it doesn't work out you'll still have plenty of time to exchange it for another. It's also worth noting that all of these monitors plug into a wall outlet, and the cord can be a strangulation hazard. Give yourself the time to find a good, safe spot that works for you.
3. Use strong passwords. Recently, there have been quite a few scary news reports about hacked baby monitors. With models that don't connect to the internet, this isn't much of a problem—you simply can't access them outside of the camera's range. But with the ones that thrive on connectivity, your best protection is a strong password. Use a unique password with a mix of lower and uppercase letters, numbers, and special characters and you should be just fine.
Related Video