The Best Smart Smoke / Carbon Monoxide Detectors and Monitors of 2018
By Camryn Rabideau
We put the top smoke detectors and monitors on the market through their paces to find the best model you can buy, and we found the Halo+ Smart Smoke & CO Alarm (available at Amazon) to be the top choice.
Smoke detectors are a perfect example of a device that benefits from smart functionality. Why? Standard smoke detectors have a few major shortcomings, mainly that they're not all that useful when you're not home. If your detectors aren't connected to the local fire department (which most are not) and a fire starts when no one is home, the alarms simply beep away to no avail. Plus, that's not to mention the dreaded 3 a.m. low-battery chirps—we could all live without those.
Smart smoke detectors solve both these issues, as they will send you smartphone notifications when the alarm goes off, as well as give you a heads up when the battery is low. Some models also add unusual features like weather updates, voice alerts, and night lights. For more of our top picks, keep reading below.
Updated January 11, 2018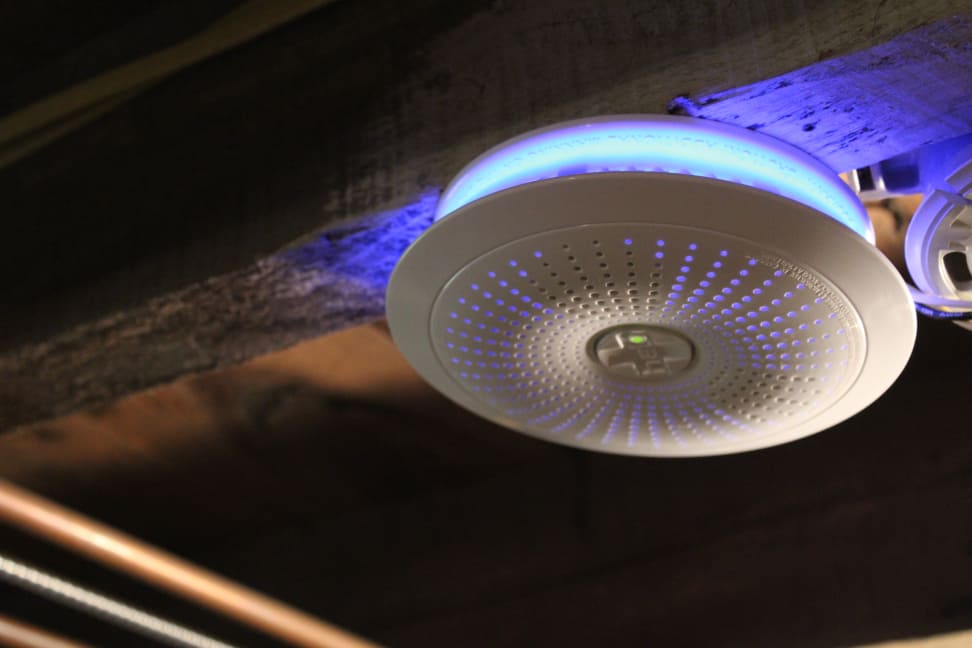 Halo+ Smart Smoke & Carbon Monoxide Alarm with Weather Alerts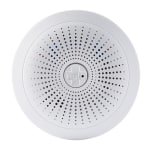 Halo+ Smart Smoke & Carbon Monoxide Alarm with Weather Alerts
Best Overall
Our pick for the best smart smoke and carbon monoxide alarm is the Halo+ Smart Smoke and CO Alarm. This hardwired smoke detector is easy to set up and connect to WiFi, quick to send out alerts in case of emergency, and even provides notifications about severe weather like tornados or hurricanes. If you don't have use for the Halo+'s weather alerts, you can opt for the regular Halo Smart Smoke and CO Alarm, which boasts the same smart features as the Halo+, but costs less at $129 compared to the Halo+'s $149.
One of the areas where the Halo+ excelled was its speed of notifications. Whether your phone is connected to WiFi or not, you'll receive notifications within seconds of the Halo+ detecting smoke or carbon monoxide. The detector itself makes a voice announcement* of rising smoke levels before the alarm sounds, which is a nice heads up. You can easily test the Halo+ through its app, and you can also silence the alarm when it's sounding—however, the caveat is you must be able to see the detector to silence it, as the app will ask you to enter a color sequence shown on the detector as a way to ensure you've checked the area for any problem.
Because this alarm is hardwired, it can be interconnected with additional Halo alarms. Just don't try interconnecting it with your existing "dumb" detectors—the National Fire Code interconnect "standard" doesn't support interconnecting alarms built by different manufacturers. The Halo+ does have a built-in battery backup in case of power failure, but its smart functionality only works if it's connected to AC power via an interconnect line.
Further, Halo+ includes an adjustable "accent light" that can be used as a nightlight. While the alarm works efficiently on its own, it can also be integrated with other smart home devices including Amazon's Alexa and Samsung's SmartThings. Overall, the Halo+ makes a solid addition to any home, as it has all the features needed to keep your house and family safe.
*The initial Halo+ Smart Smoke and CO Alarm we received was defective and didn't play voice alerts. We worked with the company's support team, who were very helpful and responsive, to troubleshoot the problem. We ended up purchasing a second Halo+ to test and it worked flawlessly.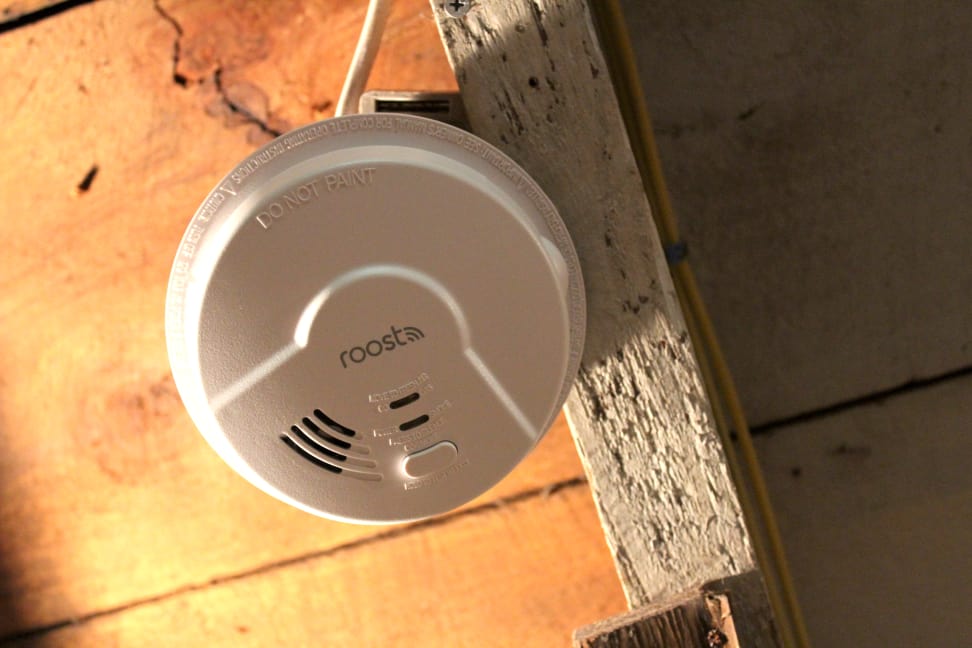 Roost RSA-400 Smart Smoke / Fire / Carbon Monoxide / Natural Gas Alarm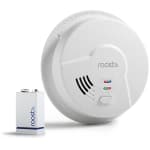 Roost RSA-400 Smart Smoke / Fire / Carbon Monoxide / Natural Gas Alarm
Best Value
At just $79.99, the Roost RSA-400 Hardwired Smart Smoke/Fire/CO/Natural Gas Alarm is our pick for best value detector. This hardwired alarm, which is simply a standard, "dumb" smoke detector with the Roost Smart 9V Battery installed, is around $40 cheaper than many of its top competitors. However, it performed just as well when put to the test, sending high-quality smartphone notifications within seconds of detecting smoke or carbon monoxide.
The Roost RSA-400 Alarm is a little tricky to sync with its app, as it entails using your phone to play a noise to the battery. The instructions and app include detailed troubleshooting tips, however, and this is the only challenging part of the detector's setup.
Once it's installed, this detector will send you smartphone alerts within seconds if a problem is detected, and the notifications actually make a smoke detector–style noise, immediately catching your attention if, for instance, your phone is in your bag. You can silence the detector via the Roost app if you're within 100 feet of the detector. However, it's worth noting this feature does not work if the detector is, in fact, hardwired into your home, as the silencing feature simply cuts off battery power to the alarm.
Because the device's smart functionality comes from the battery, there's no option to test the alarm through the app, but you can test both the detector and its notifications the same way you would a standard detector. At the end of the day, the Roost RSA-400 is a solid smart smoke and carbon monoxide detector.
Leeo Smart Alert Smoke/CO Remote Alarm Monitor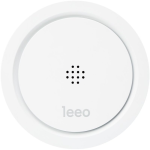 Leeo Smart Alert Smoke/CO Remote Alarm Monitor
Best Alarm Monitor
The Leeo Smart Alert Smoke/CO Remote Alarm Monitor is a sleek, easy-to-use device that "listens" for your existing smoke and carbon monoxide alarms and sends notifications to your phone.
During setup, you have to test both your smoke and carbon monoxide alerts for Leeo to "learn" their alarms, so the process takes a few minutes. Once installed, Leeo will send you notifications within a minute or so of hearing an alarm, and one of the monitor's best features is that the company will call your phone if you don't dismiss a notification within a few minutes.
Leeo has a few extra features, too. You can adjust its built-in nightlight to display a wide range of colors, and the device will also monitor temperature and humidity in the room. If you're looking strictly for a plug-in monitor, Leeo is your best option.
First Alert 2-in-1 Z-Wave Smoke Detector & Carbon Monoxide Alarm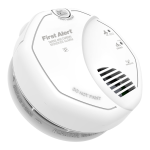 First Alert 2-in-1 Z-Wave Smoke Detector & Carbon Monoxide Alarm
The First Alert 2-in-1 Z-Wave Smoke Detector & Carbon Monoxide Alarm is a good, no-frills option if you already have a Z-wave-compatible smart home hub, such as the SmartThings Hub. The setup for this battery-only smoke detector is straightforward—just mount it and put the batteries in—and once we synced it with a SmartThings Hub and set up a SmartApp for it, we received notifications within a few seconds of the detector going off. This is really the detector's only feature, though, as there's no in-app testing or alarm silencing.
The First Alert 2-in-1 Z-Wave Smoke Detector & Carbon Monoxide Alarm performed well, making it a solid, decently priced option if you already have a Z-wave hub. However, there are better options available if you don't feel the need to connect it to a smart home hub.
Nest Protect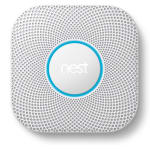 Nest Protect
Best Battery-Powered Alarm
The Nest Protect Smoke & Carbon Monoxide Alarm is another solid smart detector with ample functionality. In addition to sending push notifications, the Nest Protect, which comes in both battery and hardwired models, includes voice alerts, a nightlight option, low battery alerts, and a monthly self-test feature.
The Nest Protect didn't perform as well as some of its competitors in terms of responsiveness, taking 30 seconds or more after the alarm sounded to send notifications. However, the smartphone alerts do mention whether it's a just a "Heads Up" (a.k.a. a little bit of smoke) or a genuine "Emergency."
Roost Smart 9V Battery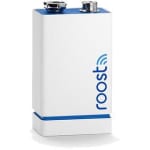 Roost Smart 9V Battery
If you're happy with your existing smoke detectors, but wish they had smart features, you can purchase the Roost Smart 9V Battery for $34.99 and install it into your alarms. The Roost Smart Battery, which is the same smart monitor used in the Roost RSA-400, is actually easier to set up when purchased on its own, and it delivers the same fast, high-quality notifications.
The Roost Smart 9V Battery comes in a specially-designed foam package that makes syncing more straightforward. Once you've synced with the app, simply install the battery into your existing smoke detector, and you're good to go. The battery will push you smartphone notifications within around 30 seconds of the detector going off—although we did observe that the notifications arrived a little quicker when the phone was connected to the same WiFi network as the battery. Further, these notifications make a loud, attention-grabbing sound similar to a smoke detector, which is a feature unique to this brand.
If you're in the proximity of the detector, you can silence an alarm through the Roost app, but only if the detector is not connected to AC power. The battery's other shortcoming is that there's no in-app testing option. However, you can test the detector normally and you'll receive a test notification from Roost, as well.
Finally, the Roost Battery, which lasts up to 5 years in smoke-only detectors and 2 to 3 years in smoke and CO detectors, will send you notifications when it's on its last leg, letting you buy a replacement before those annoying low-battery beeps start. With all these features, the Roost 9V Smart Battery is an affordable way to get the perks of a smart smoke detector without having to replace your existing alarms.
First Alert Onelink Wi-Fi Smoke + Carbon Monoxide Alarm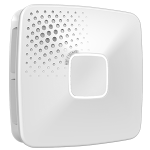 First Alert Onelink Wi-Fi Smoke + Carbon Monoxide Alarm
The First Alert Onelink Wi-Fi Smoke + Carbon Monoxide Alarm, the only Apple HomeKit-compatible detector, falls short when it comes to ease of setup, usability, and responsiveness. It took several tries to pair with its app, has a dangerous lag time when sending notifications, and only works with iOS phones—sorry, Android users, this one's not for you.
It was a hassle to sync the Onelink Alarm with its app, and it took the longest of all the detectors to send out smartphone notifications. When the phone is connected to the same WiFi network, it took more than a minute to receive a notification, and when it wasn't connected to WiFi, the notification took almost two minutes. This lag, combined with the detector's challenging setup and lack of Android compatibility, makes this detector one of our last choices.
Kidde RemoteLync Monitor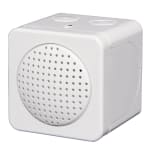 Kidde RemoteLync Monitor
Avoid
The other plug-in, smart monitor available is the Kidde RemoteLync Monitor, which is frankly a bit glitchy and unreliable. The RemoteLync app for Android crashed several times during testing, and more importantly, the app's notifications were inconsistent at best.
When notifications did come, they were simply app badges that appeared after more than a minute. However, during a few tests, the monitor did not send notifications or register that an alarm was sounding at all. Overall, this $70 device didn't inspire confidence that it would alert us of a fire, and there are definitely more affordable, reliable choices available.
How We Tested
To test these smoke detectors, we first installed and synced each device with its app. After the initial setup, we ran a "self-test" on each model and navigated around both the iOS and Android versions of the apps to assess usability.
Finally, we used aerosol-sprayed smoke to set each alarm off. We did this twice for every model—once while the phone was connected to WiFi and once when it was not—to see if there was a difference in how quickly notifications were delivered. During these tests, we also evaluated the quality/volume of the alarm, quality of the smartphone notifications, and ease of silencing the detector. Other factors we took into account were interconnectivity, app connectivity, and perceived reliability.